A Bad Review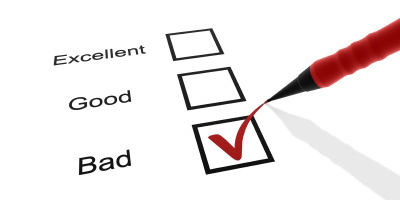 I created this category for news and announcements. Two days ago, I was checking my book on Amazon and I saw that Blyvan had given a bad review about the book. Here is the review:
 This book contains a number of tutorials for using Game Maker to create games. However, the downsides of this book are numerous:
1) Bad English with misspelled words and bad grammar.
2) Early in the book the author offers a download link for the resources associated with the book; such as pictures and sounds. However, the download link does not work in the Kindle version and there is no way to find the actual URL, because the link is shown as "Download Link" rather than the actual URL.
3) The tutorials contain inconsistencies with the current 1.3 version of Game Maker. Certain widgets the author uses in the tutorial have been deprecated and are no longer offered in Game Maker.
 You would make a poor choice in buying this book to attempt to learn about Game Maker. The author does not care about quality or English grammar. 
This is absolutely the worst book I have ever purchased from any one.
 I felt very bad. But then I realized what you can expect from a reader who felt the same way about that book. He paid money for something and didn't get what he expected.
First of all, I should apologize for this. In the starting only, few people pointed the grammar issue. I gave my book for proofreading to more than ten people two months ago. But none of them reported back except one. He said that he is busy in exams. So I thought at least other proofreader will help me. But I didn't get a reply. I thought it was a bad decision to give them that book. But the worst decision was to publish it without fixing that issue. I deserve this bad review.
I have learnt my lesson. So I am removing my book from Amazon Kindle store. I have started working on it again to fix these issues. I will not publish it again until I fix the grammar.
About the second issue of download link, I inserted the download link in hypertext format. I didn't know that how it will perform on Kindle. So sorry for that, in the next update, I will provide the download link in plain text. Those who have bought the book can e-mail me and get the download link.
The third issue is incompatibility with Game Maker studio 1.3. I have clearly mentioned in the description that this book is for Game Maker. Game Maker Studio is a different thing. There are many similarities in GM and GM: S but many functions of Game Maker are now obsolete in Game Maker Studio.
I hope I have answered all the queries. Those who bought the book and are not satisfied can refund their money or can wait for the updated version. I have also decided to donate the money earned from the book in the previous months to charity. It's not too much but I think it's better to give that money to someone who needs it rather than buying a shirt. I already have lots of shirts 🙂 . I can earn again to pay the hosting fees.
Regards,
Sujit Kumar Yadav