Draw All Your Game Art With Adobe Flash Complete Course Review: It's awesome!
I am an Indie game developer who loves to create games. But game art is a nightmare for me. I can code but creating visually appealing graphics is out of my league.  Many will argue that you dont need to create good graphics to create a good game. It's right. But graphics play an important role in game development. Most of the players (including me) download the game after loooking at the screeshots. How can you expect someone to download your game, if it doesn't look good at all. After lots of searching, I picked up this course from CartoonSmart. Tutorials are in complete HD. You will be pleased by the quality. Now let me go into the details of the course.
It has 13+ hours of training. Here is the outline:
1) Course Introduction                                                                                                         –  01:18
It is an introductionary video about the game graphics we will be creating throughout the course.
2) Initial Setup with Flash                                                                                                    –  18:13
In this video, we will setup our workplace to start the lessons. The software used in the course is Flash. You will learn the basics to create simple shapes.
3) Vector Points in Flash                                                                                                      –  02:18
In this video, the author will give you a quick overview of vector illustration and manipulating shapes.
4) Basic Layout                                                                                                                      –  12:15
You will learn to create the basic layout of the logo. How to place them and basics of lettering.
5) Starting the Logo                                                                                                             –  18:14
In this video, you will learn to create the logo. The author will make a black and white illustration of the logo.
6) Adding Color and Details                                                                                                –  18:36
You will add colors and other details like gradients. Decorating logo is more fun.
7) Adding a Backing for the Text                                                                                       –   22:10
In this video, you will add extra objects like a sword and backing behind the logo. You will learn to create 3D objects by using different colors.
8) Lighting the Logo                                                                                                             –   15:03
In this video, you will learn to add a cool fire effect to the logo.
9) The Map Base and Lakes                                                                                                –   21:01
Games are incomplete without maps. You will create the base of the map and few lakes too.
10) Streams, Docks and Text                                                                                              –   23:00
As the title suggests, we will work on streams, docks and text. I love how he created small and beautiful docks. I realized how little things makes the big difference in the final result.
11) Adding Mountains and Roads                                                                                     –   20:12
You willl learn to create mountains and shading them. The author will also teach you to create small roads. But that wasn't that hard. But overall worth learning.
12) Adding Forests and Cliffs                                                                                             –   24:28
In this video, the author will create forest by duplicating a tree. That was so easy to follow. Watching him create beautiful canyon and a little smoke effect makes the illustration look so good.
13) Adding Villages                                                                                                                 –   17:14
Author will teach you to create simple houses, a skull buried in the sand and a compass style tile.
14) Introduction                                                                                                                      –   05:40
In this video, you will learn to create the fundamentals of a start menu screen. He gave some good advice about placing GUI buttons.
15) Establishing a Theme with a Play Button                                                                     –   23:02
In this video, you will create a good looking play button according to the theme of the game.
16) Play Button Sci-Fi Style                                                                                                    –  20:14
Author will create a sci-fi style button. But in reality the button was not at all sci-fi. He created a black and white version of it. I feld ridiculous. The tutorials was ok, I did learn something but not as I expected. So its ok. Lets move to the  next video.
17) Interface Elements – Health – Progress Bar                                                                  –  18:46
In this tutorial, you will learn to create a really cool healthbar. The same technique can be used for progess bar. But really I loved it how he creates that beautiful bar by adding little things and colors. This is one of my favourite tutorials.
18) Compass – Radar                                                                                                              –  17:58
In this video, you will create a iron chain to hang the play button and then another cool compass. You will amazed when he will create a quality looking compass with simple things.
19) Currently-Selected Icons                                                                                                 –  17:39
In this video, you will be creating a selection around the icon.
20) Smoother, Realistic Buttons                                                                                          –   18:36
This is another favourite tutorial of mine. You will learn to create a smooth and professionally looking button. You will learn about highlights and sahdow. How you can add depth by using lighting properly.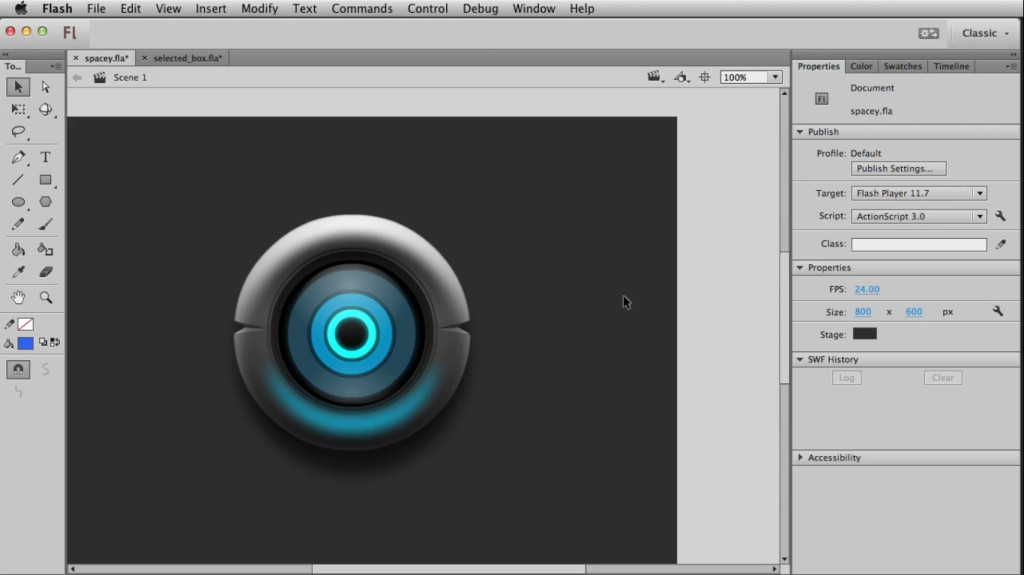 21) Overview of a Finished GUI                                                                                               – 06:32
This video explains how GUI is created by using different combinations of graphics. Nothing fancy in this video.
22) Front View Character – Possibly for a Choose a Character screen                              – 17:15
From here, the character design tutorial starts. In this video you will create the helmet of the warrior. You will also learn to use pen tool.
23) Front View Character (continued)                                                                                    – 24:30
In this video, you will be creating the lower body of the warrior. From stomach to hands.
24) In-Game Character Front View                                                                                         –  22:28
You will finish the whole character by creating legs and a sword in his hand.
25) In-Game Character Back View                                                                                          –  13:50
In this video, you will learn to crete the back view from the first sprite. How you can speed up the process by manipulating the front view into the back.
26) In-Game Character Side View                                                                                           –  12:46
The author will create the side view from already created parts. You will learn how professionals create artwork in a little time.
27) Front View Walk Cycle                                                                                                       –  20:56
The animation things starts from here. In this video, you will be creating a waking animation. Yes I said "Animation". This one is must watch tutorial.
28) Side View Walk Cycle                                                                                                         –  18:19
Side view animation tutorial.
29) Exporting a PNG sequence or SpriteSheet from Flash                                                 –  11:06
This video teaches you to create spritesheet. But I could not follow the tutorials. Because I was using Photoshop. But its not that hard too.
30) Attack Animation                                                                                                                –  21:48
In this video, you will creating an attack animation. Simple to follow.
31) Attack Animation FX                                                                                                           –  21:04
Thee author will give a cool effect to the attacking animation. One of my favourite tutorial. I really need to improve in creating FX.
32) The Outlands Terrain                                                                                                          –  20:37
In this tutorial, you will learning to create environment. You will start by creating a terrain.
33) The Outlands Continued                                                                                                    –  22:00
The video continues with adding stones, grass and few other objects.
34) The Ocean                                                                                                                            –   21:38
In this video, you will learn to create a really good looking oceon. By this video, I learnt to create better water and few things that will help me in the long run.
35) The Ocean Continued                                                                                                         –  21:04
The tutorial continues with ading ocean grass and beautiful stones. You will also learn to create a wooden bridge and a dock. You will be pleased by the quality of the artwork.
36)The Bad Part of Town (or Anywhere)                                                                               –   20:47
In this video you will learn to create tiles and pattern.
37) The Bad Part of Town Continued                                                                                      –  18:26
The second part of the tutorial teaches you to create lava and adding depth.
38) Perspective Points                                                                                                               –  15:10
From here, you will be introduced to perpective to create art. In this video, you will learn to create objects in a perpective way. Must watch for beginners.
39) The Castle                                                                                                                              –  24:14
In this video, you will learn to create a castle from top down(not fully) perpective.
40) Huts                                                                                                                                        –  18:24
You will be creating huts in the video. Very easy to follow. But the end result is so impressive.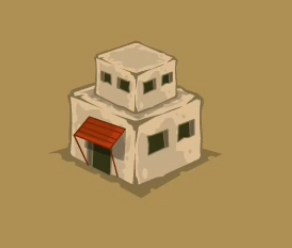 41) Sketching with Vectors – Attaching Odd Shapes                                                            –  16:59
In this video, the author will teach you to create a simple house with a glassy stairway. Good tutorial to create modern houses and bulidings.
42) The Tiki House                                                                                                                      –  24:31
I dont know what tiki house is, but its good to see the author creating complex grahics from simple shapes.
43) Star Burst                                                                                                                               –  11:48
The last three tutorials are for special effects. A must for game artists. You willl have to learn to create good effects in games. Effects make the game look vsually appealing. In this video, you will create a star burst animation.
44) Ring Blast                                                                                                                               –  08:52
A blast tutorial, I was searching for so long. Thanks to the wonderful course.
45) Smoke Loop                                                                                                                           –  09:31
In this final video, you will learn to create a smoke trail. Very good video for creating smoke effects.
Conclusion:
As you can see the course covers a lot. The best part is that you don't have to buy a drawing tablet. Everything is drawn by using mouse. If you are worrying about the Adobe Flash thing, then let me tell you.You can even use any other graphics program like Inkscape, Illustrator or GIMP. I completed this course in Photoshop. If you are going to use flash then you dont have to be an expert in it. This course has everything to get you started. After completeing it, you will also gain the knowledge of flash. It teaches you a lot about graphic design. It is best suited for people who want to learn to create their own game art. Graphic designers willl also find it very useful. I will recommend this course to everyone.
Score: 4.8 / 5      
Pros:
1)      A complete course for beginners
2)      Quality graphics design
3)      No drawing tablet required
4)      Easy to follow tutorials
Cons:
1)      I seriously found none. But few people can hesitate in adopting Flash.
You can buy the course from here.
F.A.Q
Qns 1. I am a newbie in Graphics design. I have no experience with Flash. Is this course suits me?
Ans. Absolutely, the videos are step by step. Even if you are a beginner, you can follow the tutorials. You will learn a lot about Flash too.
Qns 2. Adobe has killed Flash support. Should I opt Flash for creating game art?
Ans. I don't know why people worry about the things that doesn't matter. Adobe is a powerful and complete software. There are lots of Illustrators who still uses it. Its still awesome for animation and illustration and always will be.
Qns 3. I don't want to use Flash. Can I use Inkscape?
Ans. Ofcourse, if you know the basics of any graphic design tool then you can easily follow the tutorials. Infact I used Photoshop for it. 
Qns 4. Is there any other course, you can recommend?
Ans. For now, this is the only course available which is dedicated to game art. I will be still hunting for more courses and tutorials. I will surely post them if I find any.
Qns 5. I can't want to spend money now. Please give me some free resources.
Ans. There are no free courses. But there are lots of free tutorials scattered all over the internet. I will recommend you to checkout this site.
Have any other question? You can write it in comments.