Note: Please Don't buy the book, Because it has many grammar mistakes. So explore other books and keep learning.:)
Have you ever wondered how these games are created? Do you love playing games and also want to create your own cool games? If your answer is yes then this book is for you.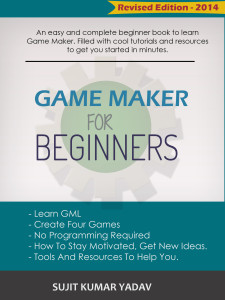 Completely refreshed version of the book. Fixed many errors reported by the readers. Thanks for your support.
Game Maker For Beginners provides step by step tutorials for Game Maker to create wonderful games. In this journey you will learn about different type of games, how game works, basic GML(Game Maker Language) and particles etc. You will be creating four games throughout this book. In the end you will be creating a top down plane dogfight game. Learning Game development is a very huge task, but with the blend of Game Maker and simple approach we can learn the basics easily. The games created in this book are created by Game maker 8. You can also use 7 or 8.1 to create them. So you don't have to worry about having an older version of Game Maker. But using Pro version is recommended.
You will find:
* Step by step Tutorials
* Full of screenshots
* Focus on beginners
* Simple and under stable language
* Learn GML
* Topic on various aspects of Game development
Total pages: 149
Contents
Chapter 1: Games ——————————————————————————————– 7
Chapter 2: Understanding Your Tool———————————————————————- 13
Chapter 3: Creating Your First Game——————————————————————— 23
Chapter 4: Creating Your Second Game—————————————————————— 41
Chapter 5: Learn Game Maker Language—————————————————————– 53
Chapter 6: Creating a Platformer game——————————————————————– 67
Chapter 7: Creating a Top-Down Plane Dogfight Game———————————————— 96
Chapter 8: Creating a Top-Down Plane Dogfight Game: Journey continues————————- 115
Chapter 9: Playing With Particles————————————————————————— 132
Chapter 10: Finalizing Your Game————————————————————————– 143
Frequently Asked Questions:
This book is a step by step guide to teach you Game Maker. It does not assume whether you have any previous experience of Game Maker or any other programming language. In the book, Author tried to be simple and use of technical language is minimal. This book is a simple and clean way to make games and impress people. It takes you from the very basic level and presents detailed tutorials to make you understand. After reading this book you will be able to create your dream games. Here is frequently asked questions:
Q) Is this book worth 4$?
A) It depends upon the readers. From my point of view it is worth. From a person's point of view who is willing to learn Game Maker will find this book useful and worth.
Q) Does it teach 3D?
A) No, this book is focused on complete beginners and I tried to be simpler so that you can take your first step in game development.
Q) Will I become an expert after reading this book?
A) No, no one ever become expert just by reading any book but by trying again and again. This book can become the base of your skills.
Q) Can I make money with my games?
A) Of course, but this book don't have any topic on that. You can try other books like Game Maker book and Making Money with Html5 Game Development.
Q) There are other books on Game Maker too then why I should buy yours?
A) Yeah, This book completely focus on beginners. Just explore your options and buy the best guide that suits you.

$ 3.99Add to cart
You can also buy via
– payhip
– Gumroad
Testimonials
It is fun to read and very nice book. Hope to see good books from you. Worth my pocketmoney.

– Abdulmatin Khatri ( AMK Games).
I created my first game, because of you. Thanks.
– Sherley Gander
I thought, I can never do this. thanks to your book and blog.

– Jospeh fedler