Free Game Art/Assets for Games #11 – Ultimate Platformer Game Art Pack
Platformer games are always fun. I remember playing Mario and Jungle book on my old video game that got extincted by the progess of Science. Also,  I remembered myself playing old casino games, the one like in 666casino, but older version and it was fun! You can also get more casino games on https://www.slotsformoney.com/casinos/us/pennsylvania/ .Today we have much better technology but this genre is still the king. People love to play these games on mobiles and consoles. 2D games will never die. They will always be in fashion. Our next free game assets pack is all about it. You can use these assets to create 2D side scroller platform game. If you have subscribed to my list then you have already gotten the free assets before everyone else. If you haven't done so, I recommended you to subscribe to it from the sidebar.
Preview:

This sprite pack includes:
Three different tiles (Grass, Ground and Steel)
One Dummy character(including walking animation).
A Treasure Chest (open and closed)
Three Pick up items (Banana, Tomato and Eggplant)
A ladder
A mysterious door
Fence
Axe (two variations)
Signboards in two variations (Wooden and Stone)
I created the dummy character to test Spriter. I suck at animating sprites. But I am learning Spriter. It's a pretty useful and easy application. The animation is not at all perfect and the character is also basic. But still I added it in the pack. All the sprites are in 128px – 256px.
Licence information: All the artwork are free for commercial use with a CC0 – Public domain license. No credit required but they are always appreciated.
If you use them in any projects. Feel free to comment or email me. I would love to see them in a real game. I can also feature your game on this website. But the game should have atleast one level or it can be a demo, if you are creating a commercial game.
Update: I am happy to share a cool game with you guys that uses free assets from this pack. Ninja Stack from 5Seconds Games provides a fast-paced box juggling environment. Similar to breakout games with a side moving character, you must use your intuition to clump together and juggle as many boxes as possible! Use the side walls and rotating bar to bounce and launch boxes in the air based on the ninja's acceleration.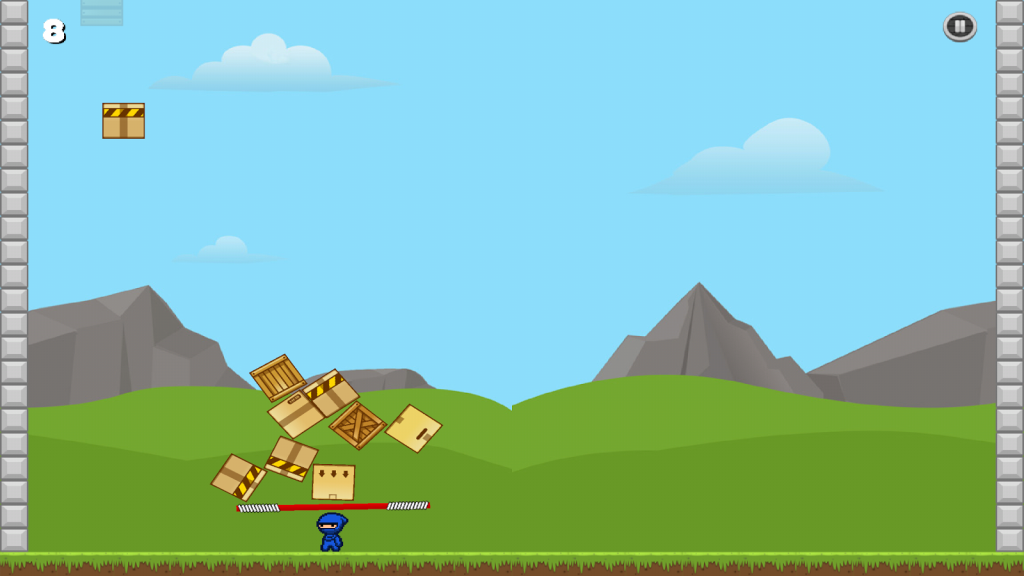 Download Ninja Stack from 5second Games
If you used any assets pack from this website then contact me. I would love to feature your game here.