How to fix "Decrypt error 2 or Can't find database error" in Backup Text for Whatsapp and backup your conversations easily?
I wanted to back up my Whatsapp conversations to the hard disk. I downloaded my all-time favourite app "Backup Text for Whatsapp". It is the best app to back up your Whatsapp conversations. But the application threw "Decrypt error 2". I realized the app doesn't work anymore with the new version of Whatsapp. I have the latest Whatsapp 2.11.399 version. There are lots of folks who are facing this issue. I emailed the developers; they replied that I have to manually import the key from the internal memory. It was quiet a hassle. I wanted a simple solution. So I started searching for a better solution.
After lots of trouble and many unsuccessful attempts, I found a simple solution.
Things needed:
Steps:
Install Whatsapp Omni-crypt from the Play store. Click on Decrypt Whatsapp Database. It will decrypt your database to a recognizable format for Backup Text for Whatsapp.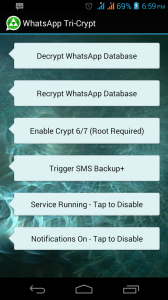 Open Backup Text for Whatsapp. Now it will recognize all the conversations and show you the total number of chats. Just choose the desired format and Hit Ok. Done!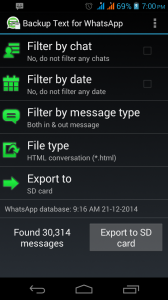 Yes, pretty simple. If you are facing any Decrypt error 2, No chat error or Out of memory error, do try this easy solution and don't forget to comment your experience. It will help others too.
Note: Tri-Crypt application has changed its name into Omni-Crypt.