An Interview with Chris Hildenbrand : The Creator of the Best Game art Tutorial Series Ever
Today, we have a guest with us, who don't need any introduction. Chris Hildenbrand, the creator of the best 2D game art tutorial series. If you don't know about him or any programmer who is bad at creating game art then I recommend you to check out his blog. Chris is really an expert in simplifying the task needed to create exceptionally beautiful artwork. That will make your game look wow. So let's talk to our hero.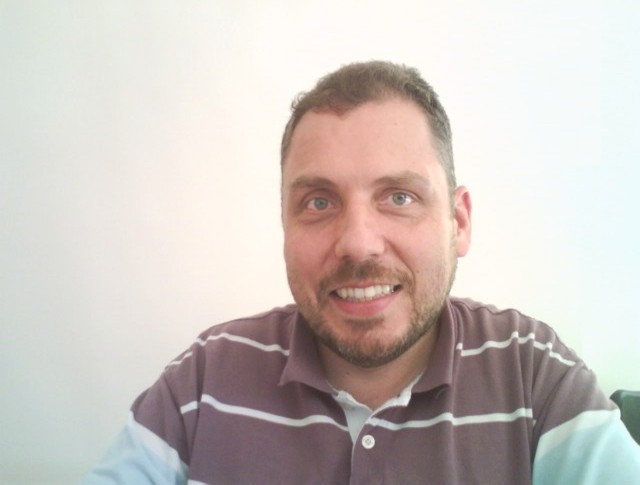 1) Hi Chris, Tell us a bit about yourself and game art making background.
I started playing games way back on a commodore 64 and loved that clunky box with its innovative games. It blended well with my passion to paint, draw, doodle and scribble as soon as a pen and paper are around. The early days of pixel pushing were very different as you used a joystick to place 'bricks' (double width pixels on C64 back then) with strict color restriction. I upgraded to an Amiga 2000 and things got a lot more user friendly and I did the art for my first handful of games. Flash games, Nintendo GBA, DS & Wii games followed and led to mobile games and a lot of indie PC games. The old joystick is now replaced with a Wacom tablet and a pen, the iPad is used for doodling and makes integration of sketches a lot easier… 
2) Why did you feel Game Art tutorials are needed?
I started commenting on a developer blog whenever game art questions came up. Soon the same questions kept popping up and it was basic problems with the creation of game art by non-artists. A lot of the art tutorials are written by artists for artist. I tried to change the approach to make it easy for those people who 'can't draw a stick figure' to construct their game art with simple shapes rather than 'draw it' in a traditional way. I actually enjoyed writing the blog, taking simple steps from my workflow and breaking them down into easy to follow tutorials. There even were people out there reading my ramblings and the blog grew slowly. Now there is roughly 50 step by step tutorials up there and I am far from finished having fun with game art.  
3) Why did you choose Inkscape?
I have been working with other vector tools for a long time but found them not ideal for entering into the world of game art. The main reasons were the price of some of them, their complexity and their target audience of professional graphic designer and illustrators. Inkscape offers a free and easy approach, allowing people to just try it out and see how they like it and a lot might stick to the tool. To me it's a nice, lightweight, constantly growing tool that allows a quick way to create art and adds nicely to my set of artistic tools. 
4) Do you have any plans for video tutorials?
The dreaded question… Yes… I do have plans. I have tried in the past and wasn't happy with the result. As I get more and more requests to take the tutorials to the next level and make video tutorials, I will have to rethink my approach and find a working formula – both in terms of getting the content across as well as the time it takes me to create the tutorials. 
5) You also create games, which game engine do you use?
I do try coding games every now and then, playing with different game engines but I realized a while back that I am decent artist but a poor coder – my brain's just wired wrong for coding task. These days it's more about keeping up to date what's out there in order to work well with the coders I collaborate with rather than build my own games. Currently I am having fun with unity 5 while playing around with the build in animation tools. 
6) What do you think an aspiring game artist should do, in order to learn the necessary skills for game art?
Ok… now we get to the tough questions. There really is no clear answer to this one. Game artists as such don't exist anymore. Back in the old days you had generalists who could do everything to make art for a game: concept art to pushing pixels, doing animations and final optimization. These days you have a lot more aspects of game art. The concept artists have a lot more tools at their disposal – new programs for specific tasks as well a free alternatives to the classic Photoshop and painter appearing. The pixel artists are still going strong but face a more indie niche. I am a big fan of nice pixel art and it's a great skill to have in terms of learning to minimize and work with limited palettes and image size. The whole field of 3D game art has changed dramatically and it's near impossible to keep up with all the tools, add-ons and helpful extras that make modelling, texturing and animating a lot easier and faster. 
My suggestion would be to try as many styles and areas of game art as you can to find the place you feel most comfortable in. There is no need or even no way to master all the tools out there – but knowing a little bit of main tools and using them to advance your main skills is extremely helpful. Doing textures for 3D models for example is traditionally done with either hand-painted or photo materials. By adding vector skills and using the tools of graphic design to create your textures using e.g. Inkscape, you get really nice, fast and creative results. 
Never stop learning new things and look at what other artist do – without letting some of the mind blowing skills and talented works get you down. Learn from the approach others take to find your own way. Copying other great artist can be helpful in learning the skill but in the end it should just be a way to find your own style.
7) Did you have a model? Someone you look up to learn from and get inspired by.
Not really… I like a lot of different styles and am constantly adding new artists I like to my bookmarks and check their portfolios when time permits. Generally I find inspiration by just browsing some of the amazing art sites out there now – not just game art but art and illustration in general. 
8) Any important lesson you've learned, since working as an artist, and feel like sharing.
The main thing is to have fun doing what you are doing – it shows in your work – and keep doing art, any form of art, do more, more and even more. It will improve your skills, broaden your spectrum which leads to more fun to be had trying out a wider range of styles. 
I would like to thank Chris for taking time to answer our questions. I hope he keep doing his amazing work on 2D game art. Best of luck Chris. I hope our readers enjoyed the article as much as I enjoyed talking with him.