Free Game Art/Assets #14 – Chess Game Assets
I have never thought about creating a chess game assets pack. Few days ago, I was working on a chess project that inspired me to release this. But I am not satisfied with the results. After months of hard work, I am seeing good success with Fiverr, a platform where you can sell your services for 5$ or more. I know 5$ is so cheap but with upsells and some planning, one can easily earn good amount of money. People who hired you can leave reviews and it helps you build a reputation. I opened Fiverr account a year ago but got no orders but then my wife started using my account for designing quotes. She brought me good luck and a project. I finished my first order on Fiverr with an awesome rating. From then, I am working seriously to build and deliver quality designs. Last month I earned $200+ and this month I have earned $200 in just 12 days. I am excited.
My family has allowed me to work as a freelancer for few months. I am too happy because of it. But I am worried about quality of my game assets. It has been decreased because of Fiverr projects. I am also not able to learn new things. I have to do something about it. Enough of my personal story. Here is your game assets pack: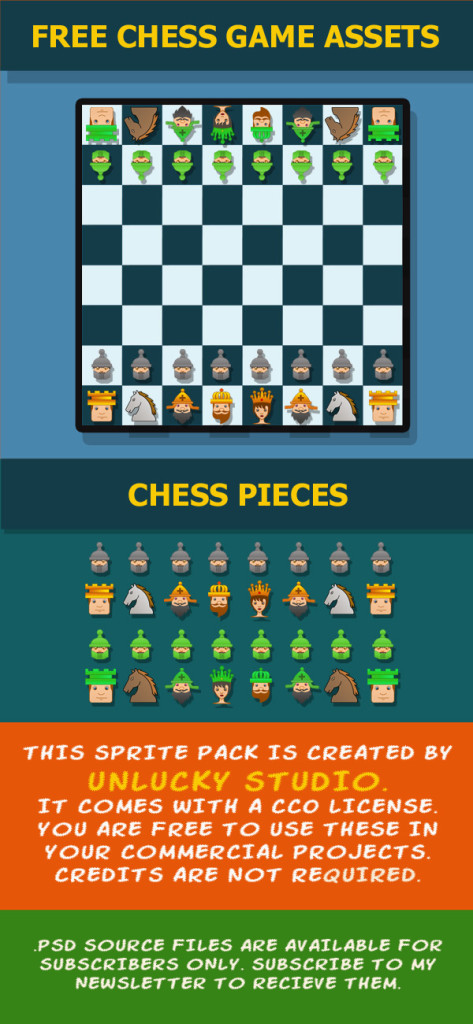 This pack includes:
Chess board

Chess pieces in two different colors.
Licence information: All the artwork are free for commercial use with a CC0 – Public domain license. No credit required but they are always appreciated. If you use them in any projects. Feel free to comment or email me. I would love to see them in a real game. I can also feature your game on this website. But the game should have at least one level or it can be a demo, if you are creating a commercial game.
Subscribe to my newsletter to get the source files of these assets. You will be able to edit the sprites and create more. You can check out the previous art packs from the list below:
Complete Spaceship Game Art Pack
Complete Breakout Game Sprites Pack
Top down Car Game Sprites Pack
If you have any requests or suggestions do send me your e-mails. Your support always motivate me to provide quality work. If you want to support this mission then please consider donating by clicking here.